Oops I did it again! Sorry Britney, got nothing against ya, but I'm stealing your lyric.
I made another Everyday Fanny Pack (LearnMYOG.com) but this time out of FANCY fabric. This is made from 2100 HDPE Gridstop nylon from RipstopBytheRoll.com, and I finally broke out my really cool Japanese print quilting cotton for the pocket and inner lining.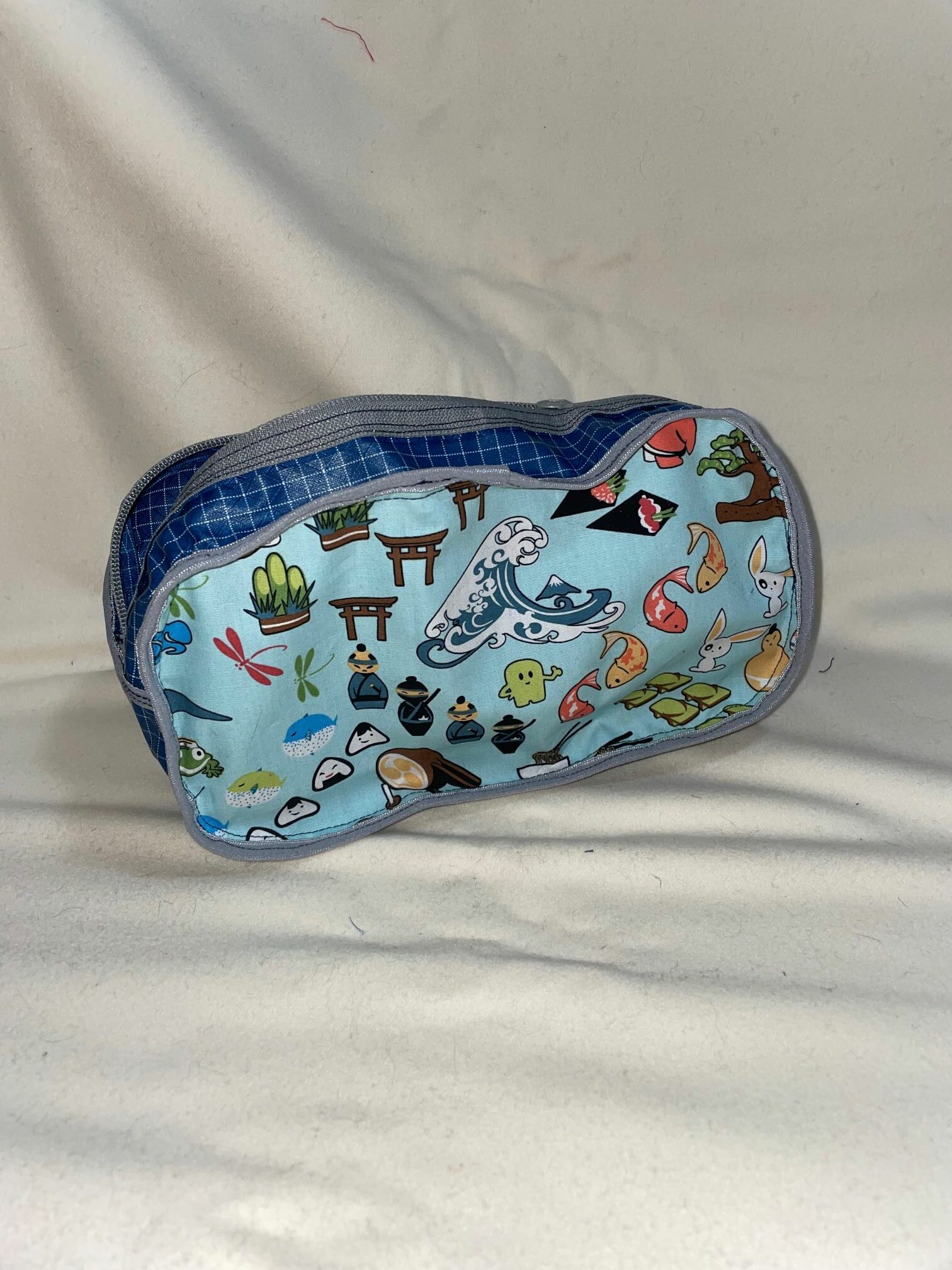 I made a few construction changes this time around. I used FOE for the top of the back panel pocket, and stretched it as I was sewing it on so it creates a stretchy top to the pocket. I doubt I will use this for anything super valuable when travelling, but it could be good for things like extra kleenex/napkins, folded up map, etc.
For the inside lining, I just cut extra pieces of the side panel pieces out of this cotton and basted them onto the back/inner sides of the side pieces. I couldn't figure out a way to make it entirely lined without massively rewriting the construction process and that's not my bag, baby (har har har). Instead I bound the seam allowances with this grey FOE to tidy things up a bit, although I should have used thread that matches the FOE so it still looks pretty janky inside. But I'm learning.
I am still waiting to put the buckles on these straps. I want to get one of those slider-thingies for adjusting the length of the straps, so I don't have loose webbing flopping around.
Oh the other thing I attempted to do was put a little pull-tab on the end of the main zipper, but I didn't realize I wanted it until after it was all assembled. Unpicking that side gusset seam where the zipper goes is REALLY hazardous because the zipper tape/coil was already cut down and tucked away inside the FOE binding, so there wasn't much seam allowance there to hold it all together when I sewed it back up. I ended up doing some hand-stitching before going over it with the machine. Nobody look too closely.