Well I've been a busy little beaver, haven't I?
Itch to Stitch Nazare Hoodie
I made most of this Itch to Stitch Nazare Hoodie two weeks ago, but I didn't want to put a black or blue zipper into it, and I basically only do nylon coil zippers nowadays (I prefer how they look to plastic teeth). So I've been waiting for a Wawak order to come in with a zipper match. And it was so worth it!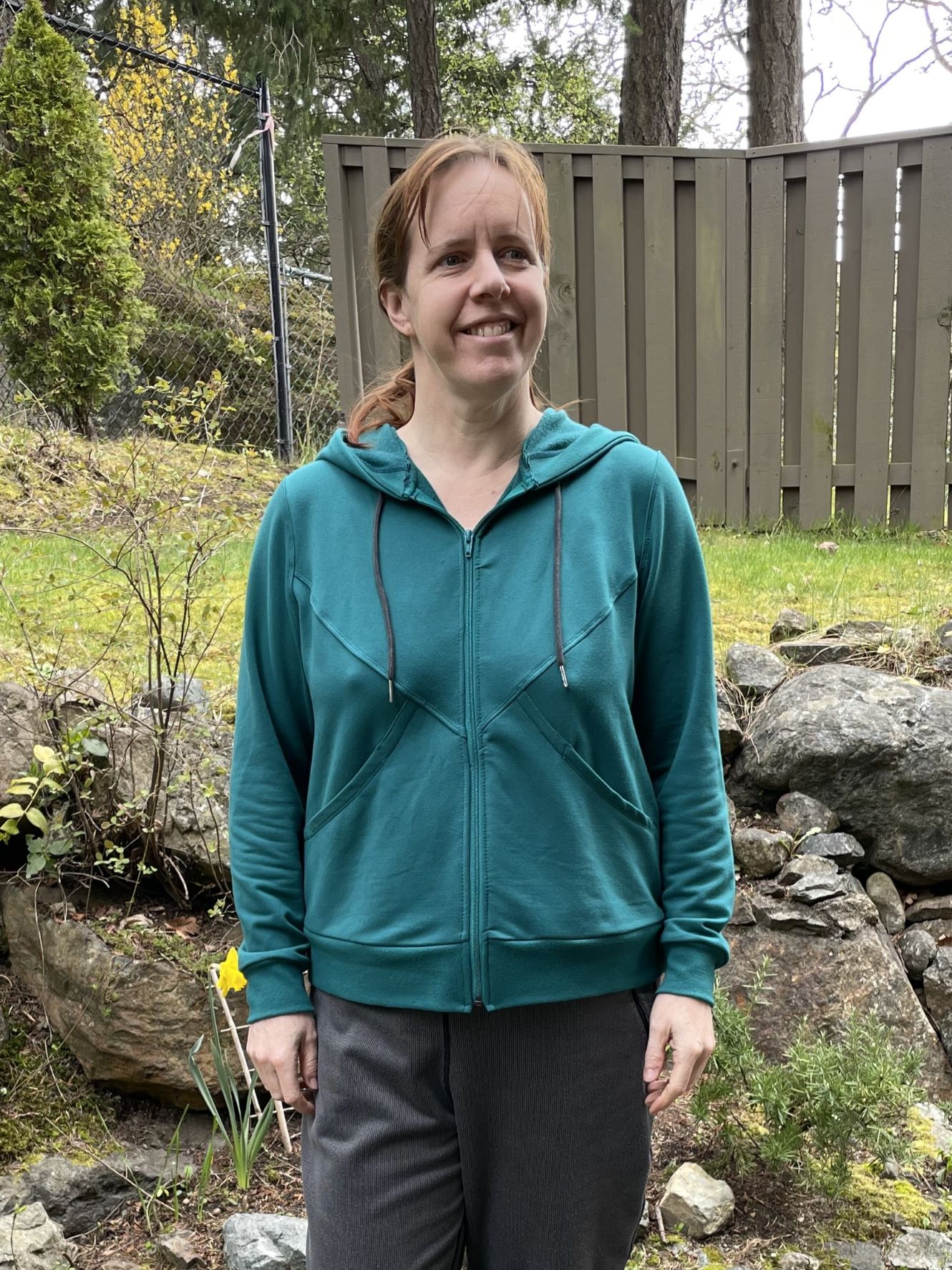 This pattern is really lovely. The instructions are clear and accurate (though the font size could be larger). I added 2.5cm length to the body because it's drafted for 5'6″ and I'm 5'10. I could potentially have added 2″ (you normally do 1/2 the height difference between your height and the pattern standard). I think the length looks good on me though. I didn't add length in the arms because I have these short arms!
The Bamboo Fleece is, once again, absolutely to die for. Wearing this is like a hug.
Pattern Adventure Stretch Hiking Pants (as shorts)
After doing lots of work on the fit of these stretch hiking pants, I wanted to use the pattern again. The rise is just right for me! I used the Adventure Stretch Woven from Discovery Fabrics. This has slightly more stretch than the Stretch Microfibre that I used for the Hiking Pants, and I didn't adjust the pattern accordingly so these fit a little on the loose side. It's okay though – as long as I wear a belt I'll be good.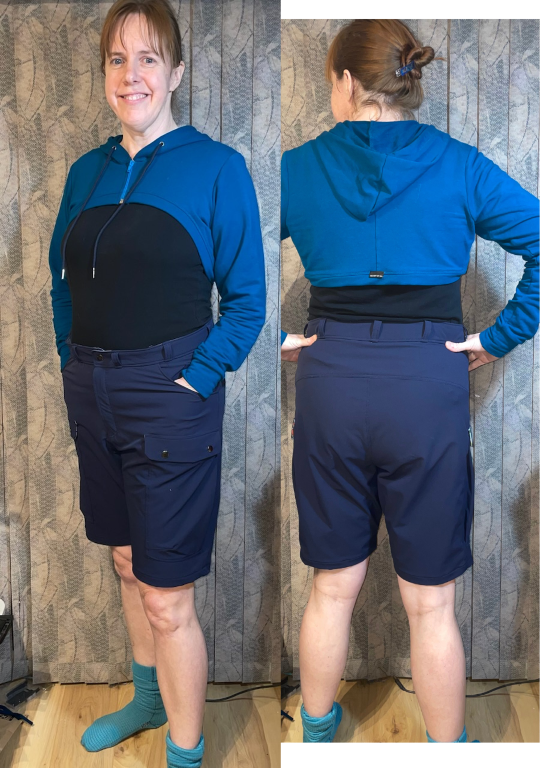 I still need to get the fit of the back dialled in. It works well enough, though. I love the Japanese print cotton that I used for the fly shield/facing and pockets. I didn't have enough to do the waistband facing in this print so I used supplex nylon. They feel really comfortable!
Greenstyle Whistler x Ellie and Mac Transformer
So I want to do a windbreaker, and I have some skookum HyperD 1.6oz very lightweight nylon ripstop to use for it, that I ordered from RipstopByTheRoll. It took so long and I didn't know whether I'd really like it so I didn't order much and I regret that now. I can't re-order in time for the end of the sudoku contest (April 30).
Fortunately, my dear friend Cupid Dog (she of PatternReview Sewing Bee 2023 fame) had a length of ripstop nylon LITERALLY since the 1990s, and she contributed it to the cause. I was able to do a test run of my idea.
I'm mixing up the Whistler bomber jacket with the Ellie and Mac Transformer Jacket, because I am charmed by the idea of a windbreaker that turns into a backpack. It's a bit clumsy on this go-round because I didn't want to split the back piece into an upper and lower, but I think that has to be done. Now that I know how it all comes together, I also know that I can adapt the shaping of the back piece to be a little less square. The Whistler has a color-blocked back piece but as I don't have two different colours of this nylon, I'm sort of stuck with a single colour outfit. Unlike this glorious sample!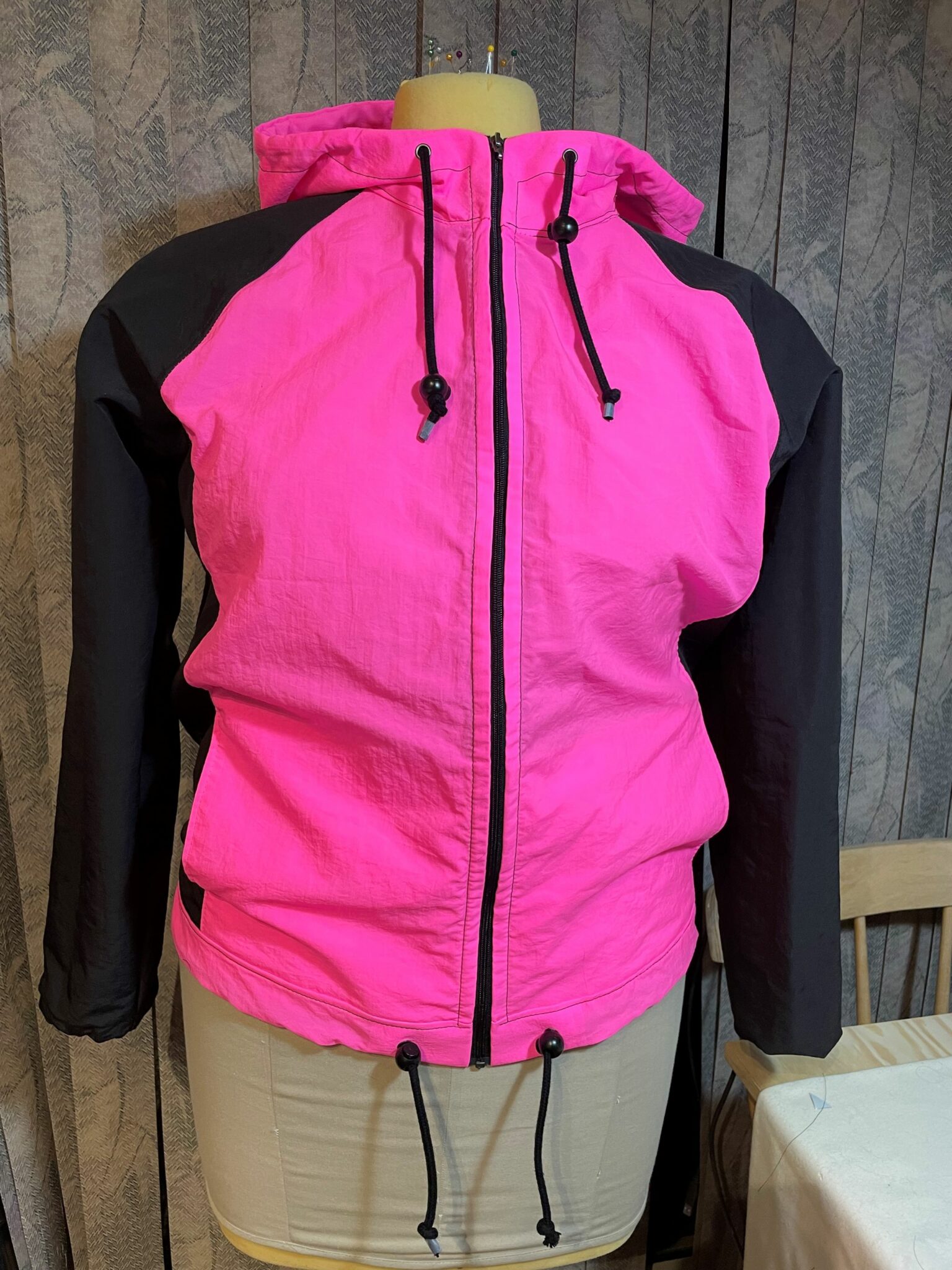 I can't see myself actually wearing this in public though… it's just not my style. So it's going to get given to a charming young lady, my partner's niece, who I think will find it very much her style. And if she doesn't want it, I guess I'll donate it!
Sudoku Status Update
So here's where things stand tonight… I have two tops, one bottom, and one extra (the windbreaker) still to complete. Those two tops are already done in other fabrics but I'm having second thoughts about using them.